Having re-retired after teaching English for a year at a local high school, I am trying to fill my time with activities that keep me busy, healthy, and productive. One of those things is a return to volunteering at a hospice, working with the sick, the dying, and their loved ones.
I had spent a couple of years volunteering to go to people's houses, but it was frustrating to show up and be told that I wouldn't be needed that day. So I signed up to work at Hospice Austin's Christopher House, where there is always somebody there.
As it happened, my first mother-in-law's life ended there in 1999, and it was a dignified and relatively comfortable passing. She is memorialized on a brick in the courtyard. I often look at her name as I enter the building.
COVID and my return to teaching kept me away for a few years, but the volunteer coordinator was still there. So was my name tag.
After I read the notes on patients, I head out to make my rounds. I ask the nurses if there's anything they can tell me. I learn who's just been visited, who's alone, who's actively dying, who might want to talk, who should be undisturbed.
Often there are family members in the room. Sofas in the room double as beds, and people are encouraged to stay with their loved ones. Usually when I announce myself to the family and ask if there is anything I can do, they politely decline. Sometimes, though, I get them water or coffee or extra towels or blankets. It's very gratifying to be able to do any little thing for them.
Once one of the patients said she wanted a chocolate eclair. I got in my car and looked for a bakery — we had to settle for a chocolate-filled donut. I also got a newspaper for someone.
Many times patients are alone in their rooms, asleep. I look in the room, see that they have water beside their beds, and leave. I return to them at the end of my rounds, and if I have seen everybody else, I come back and simply sit silently in the room with them. Once a man died, very quietly, as I sat across the room. I noticed that he had stopped breathing, with no struggle. I went and got a nurse who confirmed his passing.
Sitting in silence with a dying person is a way to dignify their life. It is a blessing and an honor.
Sometimes family members are happy to talk. Once I went in a room where a former teacher was dying. He had taught me Japanese in graduate school. His son was in the room, and we reminisced about how his dad had his students, including me, over to his house when the son was a little boy.
Another time I met a friend and former colleague who was visiting her father. We went out to a lobby and sat on sofas and talked. The first thing I said was, "Tell me about your father." Then we talked about her children and my daughter, and mutual friends.
Sometimes patients are only able to talk a little. One year near Christmas I sang carols to a dying woman. Another mentioned music he liked, and I found songs on my phone.
Other patients are fully lucid and happy to talk. I ask them about their lives, their families, their careers and their interests. I will never forget one particular woman, though I don't remember her name. She was dying of cancer and had little time. Though she was 70, her face had no wrinkles, and she was clearly a beautiful woman. More than that, she was serene and almost glowing.
She talked about her life, and about the estrangement with her daughter that had partially resolved itself. And then she asked me about my own family. She was filled with grace and acceptance and gentle strength.
Some patients ask me to read scripture or prayers for them. I never bring up religion unless they do, but I'm happy to listen or read or talk or pray with them. One younger guy, who had nearly died earlier in the day, had been brought up in a religious family but had fallen into a wayward life. He had forgotten the Lord's Prayer, so I wrote it down for him.
One fellow had been in hospice, was discharged, and some months later returned in bad shape. He was going through a panic attack, and I helped calm him down. It was one of those times I was called on to do the talking, so I kept mentioning the importance of gratitude for the life he had and for the time he still had. At the end of our conversation, we embraced. I have tried to take my own advice.
One man was asleep when I first made my rounds. Then, toward the end of my shift, I returned. He was awake, and we ended up getting in a delightful conversation about his youthful athletics, his career teaching in a university, and about a small town in Colorado we both love.
Young and strong people tend to linger longer than the elderly and frail. Sometimes I get to know the mothers or spouses better than the patients. I meet most people only once.
I try to tell myself I'm not doing this for me, but for others. Still, I am blessed with the opportunity to do whatever I can, however small, to give comfort and dignity to people's last days. That enriches my life.
I'm glad to be back.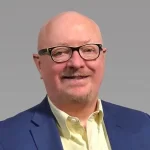 Frank T. Pool
Volunteer