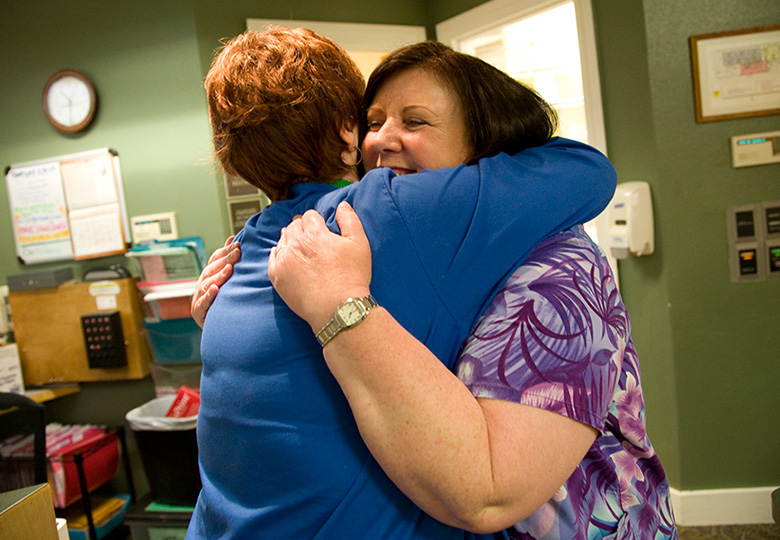 Not all hospices are the same.
How We're Different.
As a nonprofit hospice, our resources go back into services that benefit you and your family instead of being used to benefit owners or investors. It allows us to bring you and your family unique services, including:
Hospice Austin's Christopher House, an inpatient facility combining home-like comfort with expert 24-hour medical care.
Full-time, experienced physicians who specialize in Hospice & Palliative Medicine.
Services for all stages of a serious illness, including palliative care, and hospice care.
Medications and medical equipment related to your illness supplied at no cost to you..
A dedicated on-call team ready to respond to your needs at any time of the night or weekend..
Pet Peace of Mind program to ensure your pet is able to remain with you throughout your illness.
More than 400 trained volunteers who offer companionship, respite and professional skills, such as hairstyling, massage and acupuncture.
Specialized care tailored to your specific needs, such as physical, occupational and speech therapies.
The most extensive bereavement program of any hospice in Central Texas with individual counseling, support groups, visits for the homebound and online support.
Camp Brave Heart, a free therapeutic summer camp for children and adolescents ages 6 to 17 who have lost a loved one
Fully accredited since 1998, Hospice Austin meets the highest standards of care and is evaluated on a regular basis by outside hospice experts.
Questions to ask when interviewing a hospice
Even within the same community, hospices may vary dramatically. Here are some questions to keep in mind when interviewing hospices.
Is the hospice Medicare-certified?
Does the hospice accept my insurance (Medicare, Medicaid, other)?
Is the hospice accredited by a national organization?
How long has the hospice been serving patients in the Austin area?
Where is the hospice headquartered?
Who owns the hospice and what motivated them to go into the field?
Does the hospice have its own inpatient facility?
Is the hospice for-profit or non-profit?
How often will the caregivers come to visit?
What services do volunteers offer?
Which nursing homes does the hospice contract with?
Which hospitals does the hospice contract with?
Does the hospice permit palliative radiation or chemotherapy, if it's to control pain?
If the family caregiver gets exhausted, can we get respite care?
Does the hospice employ full-time medical directors?
Are the hospice physicians, registered nurses, social workers and chaplains certified in palliative care?
If a medical director at a nursing facility is recommending a specific hospice, is that medical director also employed by the hospice?
What kind of bereavement services does the hospice offer?
Questions? Email us here or call (512) 342-4700 or (800) 445-3261