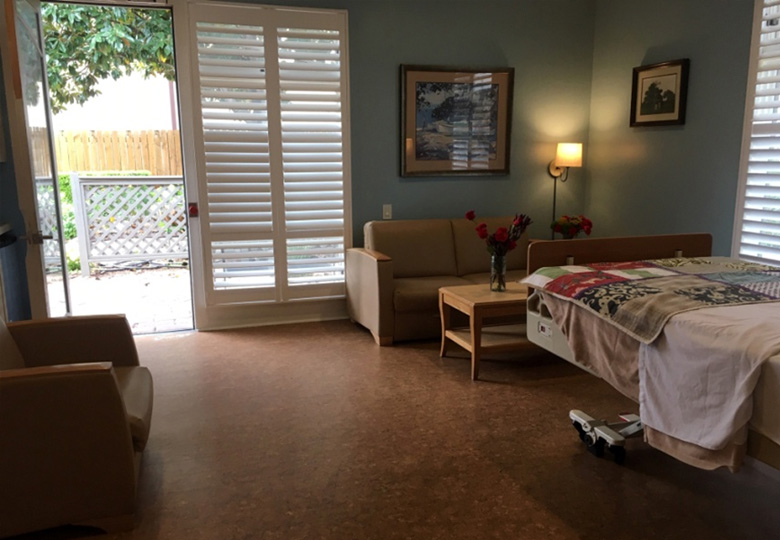 Hospice Austin's Christopher House
When symptoms temporarily cannot be managed at home, Hospice Austin's Christopher House provides 24-hour expert medical care in a warm and tranquil setting.
All of the 15 rooms at Hospice Austin's Christopher House are designed with the comfort of you and your loved ones in mind. Each has a private bathroom, microwave oven, refrigerator, wireless Internet, fold-out sofa, cable TV and DVD player. Many of the rooms open onto a lovely courtyard and all have private doors and windows that open to let in fresh air.
Flowers grace each room; musicians play in the foyer or in individual rooms, if requested; and therapy dogs and volunteers visit patients and families.
Of course, loved ones and pets are welcome to stay with you.
Hospice Austin's Christopher House is not a long-term care facility; it is an alternative to going to the hospital. When symptoms are brought under control, the patient is able to return home.
Hospice Austin's Christopher House is located at 2820 E Martin Luther King Boulevard in Austin (see map here). For more information, call (512) 342-4700 or (800) 445-3261 or email us here.
"Dear Hospice Austin,
My mother passed away at Christopher House. The round-the-clock care that she received from the kind, compassionate nurses was more than I could ever ask for. My mom was a kind, gentle, very sweet woman and you helped provide her with a place of comfort to pass on.
Thank you for allowing me to stay with her every night, and for answering all of my repetitive questions. Thank you for providing good food, music, and a peaceful and safe environment.
Thank you for the aftercare and the counseling, it helped bring me peace.
You make a difference every day that you go to work. You have inspired me. This world needs more people like you."
– Family member of a patient