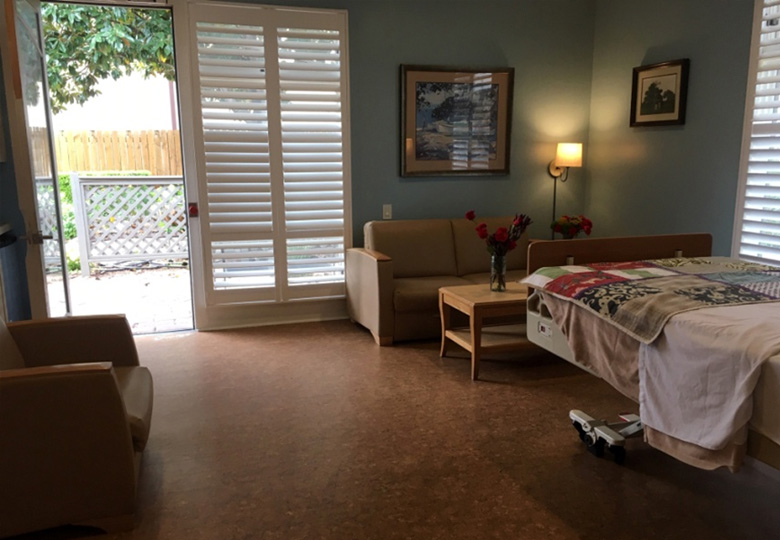 Hospice Austin's Christopher House
When symptoms temporarily cannot be managed at home, Hospice Austin's Christopher House provides 24-hour expert medical care in a warm and tranquil setting.
All of the 15 rooms at Hospice Austin's Christopher House are designed with the comfort of you and your loved ones in mind. Each has a private bathroom, microwave oven, refrigerator, wireless Internet, fold-out sofa, cable TV and DVD player. Many of the rooms open onto a lovely courtyard and all have private doors and windows that open to let in fresh air.
Flowers grace each room; musicians play in the courtyard outside of each individual room, if requested.
Loved ones are welcome to stay with you. However, due to the pandemic, we have had to modify our visitor policy.
Patients may have up to four visitors in the room at one time.
Patients may have unlimited visitors in a 24-hour time frame.
Visitors must pass a screening upon entry to Hospice Austin's Christopher House in accordance with the current visitor policy, which includes temperature and health If a visitor's temperature is greater than 99.5 or they cannot answer no to all of the screening questions, they will not be allowed to visit at this time. Questions include:
Are you experiencing any of the following symptoms: cough (new or worsening), shortness of breath or difficulty breathing, feel feverish/chills, sore throat, runny nose, stuffy or congested nose (not allergy related), loss of taste or smell, aches/pains, fatigue, headache, diarrhea or nausea/vomiting?
Have you had close contact with a person diagnosed with or presumed to have COVID-19 or ill with respiratory disease in the past 14 days?
Have you had a positive test for COVID-19 in the past 10 days?
All visitors must wear a mask that covers their mouth and nose in all common areas outside of patient rooms.
A mask will be provided at check-in if a visitor doesn't have one.
Nurses will provide PPE education as appropriate for the level of precaution.
Pets are welcome to visit in the accompaniment of a human.
Thank you for working with us to keep our patients, visitors, and staff safe!
Hospice Austin's Christopher House is not a long-term care facility; it is an alternative to going to the hospital. When symptoms are brought under control, you are able to return home.
Hospice Austin's Christopher House is located at 2820 E Martin Luther King Boulevard in Austin (see map here). For more information, call (512) 342-4700 or (800) 445-3261 or email us here.
"Earlier this year, my sister was diagnosed with stage 4 colon cancer. She was 46 years young. I had never had any experiences with a hospice and had no idea what to expect. I soon learned that Hospice Austin's Christopher House is a place of open doors and no judgment. A place where friends and family can create a living funeral for their loved ones with dignity and respect.
A place where you can redecorate the facility room with personal glitter art, disco balls, unicorn balloons, photos, feather boas, countless stuffed animals and grandma quilts.
A place you can bring pets to comfort the dying….dogs, cats, birds…and I even heard a story about a horse coming up to say its goodbyes to its owner.
A place where a Catholic priest can come to do last rites before breakfast and by lunchtime a spiritual medium can come comfort your comatose sister about her upcoming journey.
A place where a  barrage of friends stop by all hours of the day and night – so many that they overflow outside onto the patio causing the staff to need to move your sister into the largest room in the facility…..which means undecorating one room and redecorating the new room.
A place where you can fill the room with cheers of clinking glasses of wine, beer, and champagne as friends and family laugh and cry while telling stories about your sister.
A place where hairdressers, manicurists, and makeup artist friends come in and dress her up for her final party.
A place where live music is welcome, where you can play hits from the eighties on the stereo……or just sit alone with your loved one and enjoy the sounds of silence.
A place with a meditation room that is open for peace and quiet, or a place to cry alone, or a place to pray, or a place to meet with a chaplin and just talk.
A place where you can hang out with friends and family in the lobby, sit alone  by the fireplace and read a book from their library,  or work on a puzzle in order to escape and regain your strength.
It's a place where I got to have one last slumber party with my sister. Stay up all night watching our favorite movies while pushing the pain med button every half hour on the IV. A place where I got to keep my sister company until she peacefully transitioned.
A place of open doors and no judgment is a place where unconditional love is created and nourished…the kind of love religious scholars, philosophers and poets have talked of for centuries but that most only read about. I am forever grateful that I got to experience it with the help of Christopher House. Thank you for all you do, and for providing me a most awe-inspiring experience and the opportunity to properly say goodbye to my sister." 
– Family member of a patient
"Dear Hospice Austin,
My mother passed away at Christopher House. The round-the-clock care that she received from the kind, compassionate nurses was more than I could ever ask for. My mom was a kind, gentle, very sweet woman and you helped provide her with a place of comfort to pass on.
Thank you for allowing me to stay with her every night, and for answering all of my repetitive questions. Thank you for providing good food, music, and a peaceful and safe environment.
Thank you for the aftercare and the counseling, it helped bring me peace.
You make a difference every day that you go to work. You have inspired me. This world needs more people like you."
– Family member of a patient