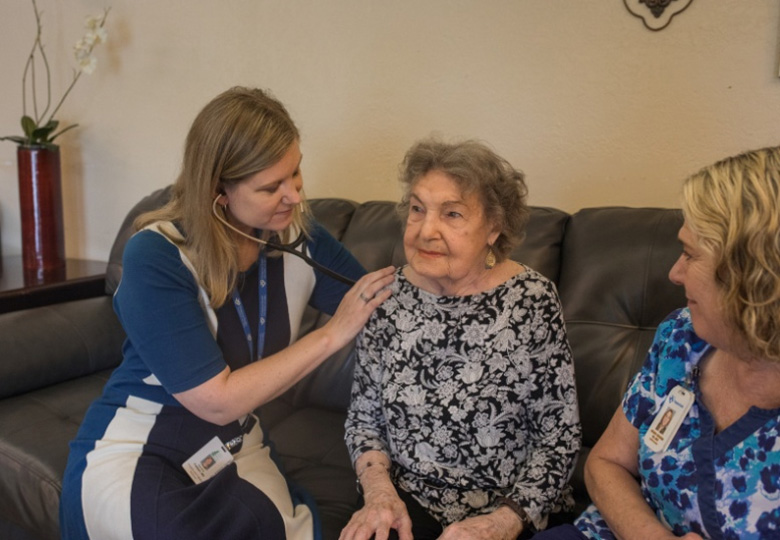 Palliative care is medical care specially designed to address the needs of people living with serious illness. The Austin Palliative Care team is comprised of physicians, nurse practitioners, nurses and social workers who have received expert training in the care and management of people dealing with serious illness.
Palliative Care supports patients and families by collaborating with the patient, family, and the patient's health care team to provide relief from a host of symptoms that many people with serious illness experience, including pain. This care is provided in addition to any curative or disease-directed treatments to help patients live better.
Hospice Austin founded Austin Palliative Care to help meet our community's care needs during times of serious illness. Austin Palliative Care is the first practice of its kind in our area that is focused on providing palliative care where a person lives, including homes, assisted living facilities, memory care facilities, and nursing homes.
For more information, please visit AustinPalliativeCare.org or call (512) 397-3360.
Here are some answers to common questions about Austin Palliative Care:
What is the difference between hospice and palliative care?
Both hospice care and palliative care offer compassionate care to patients with life-limiting illnesses. Austin Palliative Care provides care to patients generally with a life-expectancy of two years or less; care can be provided along with curative or disease-directed treatments.
Hospice Austin cares for patients who are no longer seeking aggressive or curative treatment, and who have a life-expectancy of six months or less. Hospice care focuses on physical comfort and addresses the patient's and family's emotional and spiritual needs as well. It pays for prescription medications related to the primary illness, provides medical equipment and supplies, sees patients in their homes, and can help with activities such as administering medications, bathing and dressing. It is more encompassing care.
What exactly does Austin Palliative Care offer?
Consultation by a board-certified physician or nurse practitioner to control your pain and other symptoms caused by both your disease and your treatment
Coordinates conversations between you and the various specialists on your medical team and translates it into language you can easily understand
Helps to educate you on the typical progression of your disease so you know what to expect
Manages complications of your disease and/or treatment
Optimizes the quality of life for both you and your family
Helps you and your family better understand your condition and care choices
Empowers you and your family in managing complex illnesses
Prevents frequent hospitalizations and emergency room visits
Collaborates with your current medical team to provide a comprehensive plan of care
How do I get started?

Your managing or referring physician may contact us directly at (512) 397-3360. If you are in the hospital, a referral can come from your attending physician, hospital case manager or social worker.
Does insurance cover this?

Medicare, Medicaid, and most insurance companies routinely cover palliative care consultation services. Please consult your insurer for benefits and coverage.