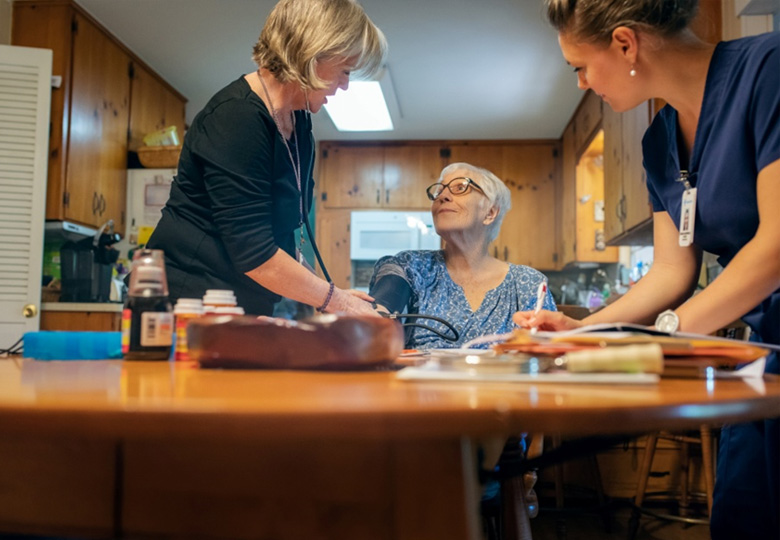 Hospice care is for patients who have chosen to focus on maximizing their quality of life and who have a life expectancy of up to six months, if the illness runs its expected course. Since everyone is different, diseases can be hard to predict; patients may stay on hospice care longer than six months or be discharged if their condition improves.
Often, your doctor is the person who refers you to Hospice Austin. However, anyone – you, a family member or a friend – can make a referral for an evaluation. We'll provide comfort and support for you and for your family.
We provide our services:
• In your home
• In an independent living, assisted living, or skilled nursing facility
• At Hospice Austin's Christopher House
• In the hospital
Hospice Austin provides all prescription medications for comfort and symptom management which are related to your hospice diagnosis. We also provide medical supplies and equipment such as electric beds and walkers at no charge to you. We serve families in Travis, Williamson, Hays, Caldwell and Bastrop counties. As a nonprofit hospice, we care for all who need our services, regardless of your age, diagnosis, or ability to pay.
You will be cared for by a team of professionals who will work with you and your family to make decisions about your care. Your care team will be built around you; which members of the team visit and how often will be determined by you and your unique needs. Your care team includes:
You
You are the leader of the team.
Your Personal Physician
You may keep your own doctor who will work with your care team to develop your individual plan of care. If you prefer, you may choose one of our full-time board-certified physicians or nurse practitioners to direct your care.
Your Hospice Austin Physician
Your Hospice Austin doctor will consult with your own personal physician and work closely with you and your team.
Hospice Austin physicians specialize in caring for patients with a serious illness (what is known in the medical field as palliative care). Hospice Austin has more full-time hospice physicians than any other hospice in Central Texas. Our board-certified physicians are experts in pain and symptom control.
Your Nurse
Your nurse will make regular visits and will work closely with your physician to keep you comfortable. The nurse will teach you and your family members about medications and treatments. If you or your loved ones ever have any questions or problems, nurses are available for urgent visits and/or telephone consultations 24 hours a day, 7 days a week.
Your Certified Nurse Aide
Hospice Austin's certified nurse aides help you maintain independence and dignity by assisting you with the tasks of daily living – bathing, dressing, changing bed linens and other personal care tasks as needed. CNAs are also available for light household duties to make your life easier, such as meal preparation and light housekeeping services.
Your Social Worker
Your social worker can help you and your family deal with the emotional effects of an illness in your lives. They can help you with discussing difficult topics, life review, bridging family communication gaps to bring loved ones together, matching your needs with community resources, and providing ongoing emotional support.
Your Chaplain
Your chaplain supports your personal spiritual beliefs and practices and can help you and your loved ones come to terms with feelings of loneliness, doubt, fear or anxiety.
Your chaplain also can offer prayers, rituals, assistance with planning memorial services and help in healing relationships. Hospice Austin chaplains are well-connected within the religious community and can either work with your own clergy or congregation, or can request the assistance of priests, pastors, rabbis, mullahs, shamans or other secular professionals to meet your needs.
Many people with no religious or spiritual beliefs develop relationships with the chaplain on their team because the chaplain has no agenda to convert anyone to his or her way of thinking.
Your Volunteer
There is no better example of neighbors helping neighbors than Hospice Austin volunteers. They, too, feel a calling to share the comfort and support that many of them experienced themselves through our services.
Your volunteer provides companionship, practical assistance (like running errands) and emotional support. You'll have a regular volunteer and others available at your request who can help with services, such as massage, hairstyling and acupuncture. We even have Pet Peace of Mind volunteers who can bring pet food and play with your pets as part of our Pet Peace of Mind program.
Volunteers receive extensive training in our compassionate philosophy, in working as a hospice team member, and in understanding our patients and their families. They are a valuable member of your team.
Your Equipment Specialists
Medical equipment will be delivered when and where you need it and will be set up by experts who also will show you how to use the equipment safely.