When the sun goes down, it gets scary for families of patients on hospice care, according to Hospice Austin On-Call Team Leader Aimee Alexander. Symptoms seem to get worse. People are tired and upset. The on-call staff working nights and weekends have to be prepared for anything, usually a crisis or a death. They are the calvary.
"To be able to go in to a stranger's home and create a trusting relationship in a matter of minutes is a unique gift," Aimee said. "I'm very proud of the people on this team. That's their specialty."
Usually someone calls because the patient is having pain, agitation, or trouble breathing. Sometimes the caregiver just needs guidance and reassurance; other times, it's more complex. Aimee says that she thinks of her team as the Hospice ER. If someone is having uncontrolled agitation, for example, the nurse will go out, do an assessment, and call the doctor, if needed, to make changes to the medication or to arrange transfer to Hospice Austin's Christopher House. There's no need to go to a hospital in the middle of the night in order to get symptoms under control.
"I love being able to go into a situation and help someone immediately," Aimee said. "There's a problem, we can go in and help. That's a very rewarding feeling."
Many hospices don't have dedicated after-hours teams; their staff work all week and then rotate nights and weekends. The fact that we have a dedicated team is unique. Each on-call shift at Hospice Austin is staffed with nurses, a social worker, and a chaplain. A physician is available 24/7 as well.
The on-call team often visits because of a patient's sudden decline in condition. Their job then is to normalize the dying process and gently educate the family. The team can help the family prepare for what is to come and asks questions such as: Do you have other family that the patient would want to be here? Does the patient like music? What would the patient want these last hours to be like?
"It was a Hospice Austin on-call nurse who came out to the house for what we thought was a minor issue for Dad, but when she got there, she determined that he was actively dying – we had no idea," Grace Holland, the daughter of a patient, said. "Because of her, we were able to get the whole family over or on the phone by early morning. She stayed with us for a good part of the night and another on-call nurse came out early in the morning and was there when Dad peacefully passed away surrounded by family."
The family is as much a part of the team as the patient. When a patient dies, a nurse must come out to pronounce the death and if the family desires, a chaplain or social worker will also come to provide additional emotional support. The nurses provide post-mortem care, bathing and dressing the patient, allowing family the time with their loved one, encouraging rituals, calling the funeral home. It can help the family in a way that they didn't even know they needed.
"I don't know what we would have done without the on-call team," Grace Holland said. "Not just for the diagnosis but for knowing what to do to provide Dad the most comfort through the night. Because of them, my kids got to say goodbye to their granddaddy. When they arrived and he heard their voices, he smiled for the first time all night and then went on to Heaven."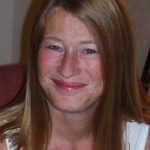 Melinda Marble
Communications Coordinator