Since Hospice Austin volunteers haven't been able to visit with patients in person for the past year, they've had to get creative. Some have kept connected to patients via phone calls or porch visits; others have organized food drives to stock our food pantry. They've donated supplies such as adult coloring books, chocolate, and other gifts for our customized gift baskets for patients. Our musicians have played concerts outside of patients' rooms in the courtyard at Hospice Austin's Christopher House.
Nick Covelli volunteered with patients before he became a co-facilitator with a bereavement support group. He learned to play the guitar after watching his mother's face light up in a memory care facility when a volunteer musician played her favorite song. He would take his guitar with him when visiting Hospice Austin patients. One of his patients – a 97-year-old gentleman – asked him to learn "San Antonio Rose." When Nick played it for him on his next visit, the patient teared up and told Nick that his dad used to sing that to him when he was a little boy.
Nick loved volunteering with patients but transitioned to working with families in bereavement groups. When the pandemic struck, he began co-facilitating the groups online over Zoom. He walked participants through the technology and it's worked very well.
"The beauty of support groups is that you can share some education, but people develop wisdom," Nick said. "It's so gratifying to see people help themselves and help each other and get better. These groups have been a lifeline to people during the pandemic when everyone has been so isolated."
Jeni Wood was a volunteer massage therapist for Hospice Austin for about 8 years. She became a massage therapist after watching her grandmother – who was in a coma in hospice care – relax under a massage therapist's hand.
"You could just see the kindness quotient relaxing her," Jeni recalled. "I thought, that is magic! I want to do that!" Jeni said that she's had patients break down and cry during massages because often people are afraid to touch someone who's sick, for fear of hurting them. We are made to be touched, Jeni said.
Jeni took a break from volunteering for several years while she was being treated for breast cancer. In remission, she had just started volunteering with us again when the pandemic struck. When we sent out an email asking for a volunteer to help us put together the admission binders we give to every new patient, she jumped at the chance. For the past year, she has come every Sunday to assemble the binders. For the last few months she's been joined by her friend, Erin.
"I find it therapeutic," Jeni said. "I'm not staring at a computer all day, I get time with my friend (who's even more COVID-safe than I am), and I know it's helping Hospice Austin. It's been great for me because I get to get out of my house. I might be staring at a wall, but at least it's a different wall!"
We are looking forward to the time when volunteers can safely resume in-home visits with their patients. In the meantime, thank you, Volunteers, for your patience and your commitment to our mission and the families we serve. We appreciate all of you!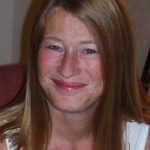 Melinda Marble
Communications Coordinator