Certified Nurse Aide Blanche Pichon-Benford doesn't consider herself brave. Neither does RN Valerie Sims, or Social Worker Rachel Poppers. Yet they were among the first to volunteer for Hospice Austin's COVID-19 Response Team in March, back when little was known about the disease and fear was rampant. Since then, they've provided care for many patients and families with COVID. Blanche just got three new patients with the virus this week.
"Some families of COVID patients ask me, 'You're not scared to come?' But this is something I have in my heart," said Blanche. "To be a CNA, you have to have the heart for it. This is the job I've wanted to do ever since I was a little girl – care for others. I know the pandemic is scary, but our patient care shouldn't change because of it."
There were three reasons Rachel Poppers volunteered to serve on the team: she has a variety of experience as a hospice social worker helping patients both at home and in the hospital; she lives alone, so there's no fear of her exposing others; and being a part of history was intriguing to her. While Rachel is able to see many patients virtually, it is sometimes necessary to see them in person. "To work for an agency on the frontlines of caring for patients who have COVID – it's a privilege and a blessing to give support and comfort people in need," Rachel said.
Some of our patients with COVID were already on our service for another disease; for others, COVID is their primary diagnosis. We serve patients in their home, hospital, assisted living, or nursing facility. Bettina Cardillo was living in a memory care unit when she contracted the virus. Her daughter, Maria Berke, said she felt enormously guilty that she couldn't be with her. Valerie Sims was her mother's nurse; Maria also got help from the chaplain, social worker and on-call staff.
"They became my mini-family," Maria said. "I think the hospice team understood what she was going through. They just took over and took care of her and let her know, let me know and let the nursing home staff know what to expect and how to take care of her. I got phone calls every day telling me how she was doing. They not only helped my mom, they helped me."
Hospice Austin has recently disbanded the formal COVID-19 Response Team. Now that we have more PPE and vaccinated staff, all staff members are able to care for patients with the virus. The way to stay safe, according to Blanche, is to treat every patient with the same care as if they had COVID.
"I feel like I'm helping people," Nurse Valerie Sims said. "I hope I'm giving people ideas to prevent panic, to know that we're here and doing what we can to help their loved ones, and also doing what we can to keep the family safe. I try to let the family know they're doing a good job."
Often the entire family in the household has the virus. Blanche remembers one 93-year-old patient who wanted to shower rather than have a bed bath. Blanche was standing in the shower with all her PPE getting wet, along with the patient and the patient's daughter and granddaughter, all of whom had COVID.
Our patients and families are extraordinarily brave in the face of a frightening and isolating disease. Maria attributes her bravery partly to the help she received from the Hospice Austin staff.
"You don't think of it as bravery when you're going through it," Maria said, "It's just when you look back, you can't believe you went through all that. When I finally got to see my mom, she looked so much better than she did before she had COVID – more relaxed. The support from Hospice Austin made it so much easier. You surround yourself with a group of supportive people and this is what happens – you turn out being brave and you don't even know it."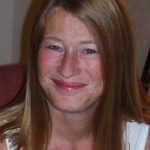 Melinda Marble
Communications Coordinator