A patient recently observed that Hospice Austin physicians are like the doctors in times gone by. Anne* has been on our service for almost a year. During that time, she has been in various settings: home, long-term care facility, and Hospice Austin's Christopher House.
"I didn't think they did things like this anymore – it's like the old doctors that used to make house calls," Anne said. "You form relationships. It means a lot to me, that there's someone in this world that cares." She said her physician, Dr. Galusha, doesn't just treat her from a distance: "She takes a hands-on attitude, and you can't say more than that!"
Dr. Galusha has been a Hospice Austin physician for over 24 years. She recalls going to an interview at Christopher House shortly after its purchase by Hospice Austin. She wasn't sure she had the time to take on additional duties, but on the way, she heard on the radio that Mother Theresa died. She thought of all the things Mother Theresa had done to add to the world in a positive way. After touring Christopher House, Dr. Galusha said, "I just had this overwhelming feeling – this is what it's all about. There was no other answer but yes."
Dr. Galusha was hired as a contract physician but now works for Hospice Austin full-time. Hospice Austin currently has five full-time and five contract physicians. Nearly all other hospices in the area are for-profit and hire part-time physicians who also have jobs in hospitals, nursing homes, or private practice. Our full-time physicians are solely focused on hospice care, so they are available to see patients, answer phone calls from staff about patient care questions, oversee weekly interdisciplinary meetings by the team to discuss each patient, and consult with the patient's other physicians when necessary. Most of our physicians are also board certified in hospice and palliative medicine, and they all have extensive training and experience with end-of-life care.
According to Hospice Austin Medical Director Sandra Frellsen, the quality of care and support that Hospice Austin physicians provide is unparalleled. Dr. Frellsen has worked for Hospice Austin for nine years. She supervises the other hospice medical providers, assesses a patient's eligibility for hospice care, and oversees quality initiatives and regulatory requirements. She said that discussions about prognosis and managing symptoms are two of the subjects that patients and families most often want to discuss with their hospice physician.
Seeing patients in their homes make these conversations easier. "The patient is much more comfortable and in control of the situation," Dr. Frellsen said. "It creates an openness to conversations about difficult topics and you learn a lot more about the patient in the home than in the hospital or doctor office. There are visual cues that make you ask questions – art, books, photos. I love hearing patients' stories."
There are times when symptoms such as pain, nausea, and agitation may be difficult to manage at home. Dr. Michelle Owens is the primary inpatient physician at Hospice Austin's Christopher House. Patients and families are often in crisis when they arrive and some of their cases can be quite complex. Some of the patients are able to get stabilized and return home; others remain at Christopher House through their final days.
"We meet people at their most vulnerable," Dr. Owens observed. "Every patient I see – whether they are awake or not – I say, 'I've come to check on you and make sure you're comfortable and wish you peace on your journey.' To allow people to die with peace and grace – what a privilege it is to bear witness to it."
Anne, Hospice Austin's patient, agrees. "The care I've gotten from Hospice Austin is fabulous. To know that there are people that care, that are helping you get what you need – in many ways, it's given me back my dignity."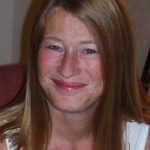 Melinda Marble
Communications Coordinator