This article originally appeared in the January/February 2021 edition of the Travis County Medical Society Journal.
We live in unprecedented times where end-of-life care discussions are more important than ever. These conversations are always difficult, even with the most accepting of patients and families. As the referring physician to hospice care, regardless of your field, your patients trust your judgement and recommendations for their journey ahead.
Here are some tips on how to best prepare your patients for hospice care:
Understand what hospice care is and what it is not.
Hospice is an interdisciplinary approach to care that attends to the physical, psychosocial, and spiritual needs of patients and their families at the end of life. Hospice is appropriate for patients who no longer wish to pursue aggressive life-sustaining treatments and choose to focus on quality of life. Consider referring a patient to hospice when, in your judgement, your patient is likely to die within six months. Hospice is comfort-focused, patient-centered (and patient-directed) care that promotes the best quality of life possible. Hospice focuses on the patient's goals of care, provides expert symptom management, and skilled psychosocial, emotional, and spiritual support. Pain, dyspnea, nausea, fatigue, depression, and other bothersome symptoms will all be addressed.
The hospice team includes physicians, nurses, social workers, chaplains, nursing aides, volunteers, bereavement counselors, and dieticians. As a referring physician, you may also elect to be the patient's primary hospice physician to maintain continuity of care.
Hospice care is provided in the patient's residence (home, nursing home, or assisted living facility), and at the hospital or an inpatient hospice unit. Some hospices provide pediatric care.
The hospice team is available 24/7 to support your patient by phone and with in-person visits. When the family caregiver needs a break, hospice covers up to 5 consecutive days of respite care in a contracted facility at the expense of the hospice. Hospice covers the cost of medically necessary medications and supplies. The hospice functions as a benefits manager, determining what is covered.
Patients do not have to be DNR in order to qualify for hospice care. Hospice staff are skilled in facilitating difficult conversations as patient goals of care evolve. Early hospice referrals allow the patient and hospice team to establish a relationship well before death. This provides patients and their families a better hospice experience as evidenced by improved quality of life through expert symptom management, increased caregiver support, and overall peace of mind.
Know your patient's goals of care, as well as their understanding of hospice, when considering a referral.
With your patient's permission, start by asking open-ended questions regarding their understanding of their current medical conditions and what they want to do with their remaining time. It may be helpful to explore if they want to continue further beneficial aggressive treatments and potential hospitalizations to buy more time, or alternatively want to refocus their care at home with the primary goal of comfort and best quality of life.
Having honest conversations that focus on meeting your patient's known goals and wishes are likely to result in more satisfying outcomes. Motivating factors for hospice enrollment include coverage of medications and DME, additional in-home caregiver support, avoiding hospitalizations and ER visits, symptom management, and knowing that their family will receive 13 months of bereavement care.
Be familiar with the hospice agencies in your area.
Hospices can arrange informational visits with patients and families at any time. Some patients like to meet with multiple hospice agencies, before they are hospice appropriate, just to know what their options are as they near the end of their life. Demystifying hospice for what it really is – support and comfort-focused care for patients and their families who will experience dying and death – is crucial in allowing them to better plan and prepare for an extremely important life event.
In these times of uncertainty, you have the ability to continue to support your patients and their families by giving them control over how they want their end of life to unfold. Your hospice and palliative medicine colleagues are always available to help support you and your patients in any way possible.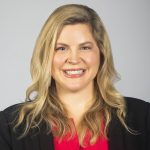 Dr. Michelle Owens
Physician, Hospice Austin's Christopher House
Board-certified in Hospice & Palliative Medicine