We want to give our community the opportunity to tour our beloved Christopher House, as well as learn more about the people inside these walls who bring comfort to our patients and families! Here are just a few of these heroes.
Keisha Jones, Director of Hospice Austin's Christopher House
As Director of Hospice Austin's Christopher House and as a registered nurse, Keisha Jones wears multiple hats. She appreciates being able to use all her skills to provide the best care to patients and to oversee a strong team of professionals and bring out the best in them. She said that Christopher House has nurses who have practiced in every discipline from OBGYN to ER, so they bring a wide range of experience and compassion to their work. "For me, personally," Keisha said, "my ability to affect people is something I love most. Not just to be a good nurse or director, but to be free to care for patients and use our experience to foster better care."
Keisha started work for Hospice Austin in 2009 as a practice manager for our medical subsidiary, Austin Palliative Care. She earned her nursing degree while working full-time and raising three children. After she received her RN, she worked at Christopher House as a nurse and then as a team leader before her promotion to director.
She gets to know the patients and families who come to Christopher House. Keisha was recently at Christopher House with 14 students from ACC when one of our patients passed. When his young wife walked out of the room, she stopped to hug Keisha. Keisha told her, "I know your world is shattered right now, but we are here to help you put the pieces back together." The wife told the Christopher House staff later how much those words and that hug helped at that devastating moment.
"In healthcare, it's so easy to just go, go, go," said Keisha. "What makes us special is our ability to stop and just be present for patients and families."
Susan Neary, RN
Susan has put her heart and soul into her career as a nurse for over 20 years. She loves working at Christopher House, and actually has had the opportunity to re-connect with patients that she served in years past as an oncology nurse!
"I think hospice picked me…I know I can truly make a difference and help people transfer peacefully. It's not just about the patient, it's the family too," she said.
When asked about the culture at Christopher House, she reflects on it being "family-like." She said that Keisha Jones, Director of Inpatient Services, "is like our dorm mom." Susan shared how self-care is emphasized, and "we take our 'work family' relationships very seriously."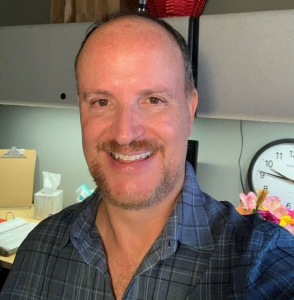 Phillip Sadler, Christopher House Volunteer Coordinator
Phillip began his tenure with Hospice Austin in a role that he felt would be a short-term summer job. However, as soon as he started with the agency, he knew he had found his home. Phillip shared how he loved working around people who WANTED to be at their jobs, and had a desire to always do the "right thing."
Phillip loves his role as coordinator as he has the opportunity to work with a community of volunteers who are very mission-driven and passionate individuals. "They truly want to enrich others' lives, and it is great to be around them." Volunteers bring their gifts and talents to Christopher House on a daily basis, and truly add so much to the loving atmosphere. A few examples include pet therapy services, sitting with the dying, and even organizing the library. We are all so fortunate for their contributions.
Shelly Sanders, Certified Nurse Aide
Shelly's bright personality and kind soul radiated as she reflected on her last three years. Shelly feels she was called to work with patients because of personal losses she has experienced, as well as her desire to share love with others. Shelly lost her mother at Christopher House when she was only 17 years old. "Every time I walk in the door, I get to tell my mother 'Good morning!" Shelly adorns a beautiful memento of her mother's handwriting – Love always, Mom – as a reminder of the love she carries for her.
As a CNA, Shelly describes herself as her patients' "journey buddy." "For some patients," she reflects, "this could be the first time they truly feel loved." She shared how she feels touch can be powerful, and how important it is to show kindness and warmth to people from all walks of life.
When asked what keeps her grounded and working where she does, Shelly shared that the people she works with are the closest you will find to "angels on Earth."
Hospice Austin's Christopher House is not a long-term care facility; it is an alternative to going to the hospital for Hospice Austin patients whose symptoms temporarily cannot be managed at home.  Loved ones and pets are welcome to stay with the patient. Hospice Austin's Christopher House is the only in-patient hospice facility in the area. If you would like to learn more about Hospice Austin's Christopher House, please click here.