Marion Vise, who has volunteered with Hospice Austin for 40 years, recently received the Lifetime Achievement Award from the Texas & New Mexico Hospice Organization. Marion began volunteering for Hospice Austin in 1983, just two years after Hospice Austin served its first patient. Marion Vise has literally done it all at Hospice Austin. In the early years, she was one of the small group of people who helped get Hospice Austin started. In the years since, she has given her gifts in the area of facilitating bereavement support groups. It's hard to calculate the thousands of lives she has touched over the past four decades.
The former nurse immigrated to the United States in 1962 from the UK and settled in Shreveport, where American friends sponsored her immigration. Two years later, she met Bernard, a military pilot, and six weeks later they were married. The couple raised three children while military transfers hopped them across the nation and abroad. In 1974, an assignment to Bergstrom Air Force Base brought them to Austin where they stayed.
Marion came to Hospice Austin in 1983.  She attended the fledgling organization's second volunteer training class and began working with patients and families.  She left for a period, spending time in England following her father's sudden death and her mother's illness and subsequent death.  When she returned to Hospice Austin, she began helping Hospice Austin's bereavement program founder, Carolyn McDonald, in the office. She soon began counseling the bereaved and took over the department when McDonald retired.  Marion received facilitator training shortly afterwards and led many loss of parent support groups and general loss support groups. Subsequent to her beloved husband's death in 2004, Marion began leading the loss of spouse groups at Hospice Austin.  She and Bernie were married for 39 very happy years and she is a sensitive and highly-skilled facilitator of these spousal loss groups.
"I really enjoy facilitating groups," Marion said. "When you have a loss, you feel like you can't impose on friends, you feel all alone. Groups are a safe place for people to talk about their loss."
She encourages those who are grieving the death of a loved one to take advantage of the support Hospice Austin offers. She says working through grief is a discovery process.
"You're not the same person when you've been through a loss. You reinvent yourself.  If you've lost your parents, you're now an orphan. If you've lost your only sibling, you're now an only child. If you've lost your spouse, you are now single. Talking about things like that and identifying those things in group helps. You learn to have a new relationship with yourself by realizing that the person died, not the relationship you had with that person." Marion explained. "In group you can talk, listen, cry or just be – you don't' have to do anything. There are no expectations."
Marion continues to facilitate the Loss of Spouse Group for people over the age of 60. Marion truly embodies the Hospice Austin mission to provide care and support to anyone in our community who needs it. She is reliable, highly-skilled, needs very little in the way of praise or attention, and keeps showing up year after year to provide comfort, wisdom, and guidance to those in our community who are grieving a significant loss. Marion is a much loved and valued volunteer for Hospice Austin.  No one is more deserving of this lifetime achievement award.  She has given of herself for 40 years and helped thousands of Central Texans along the way.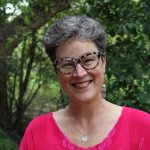 Nancy McCranie
Director of Volunteer & Bereavement Services