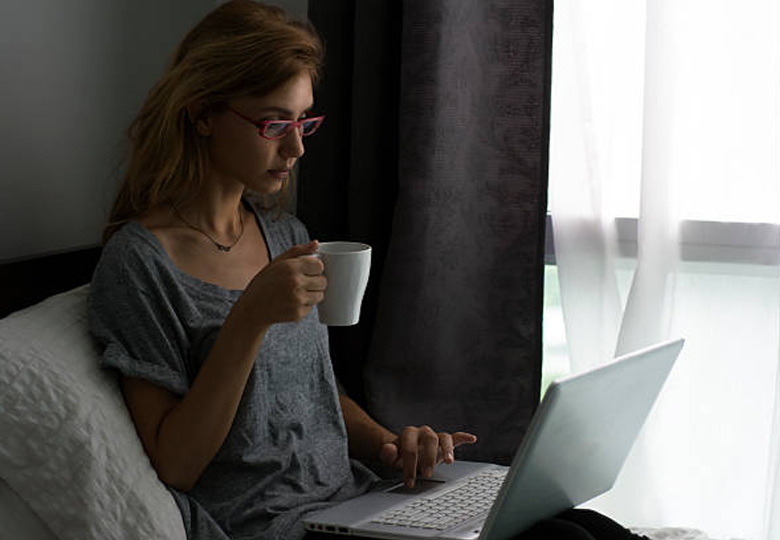 Online Bereavement Support
Someone you love has died and you're looking for support but can't find a grief support group that fits into your busy schedule. Or perhaps you don't feel comfortable grieving in fronts of others; you'd prefer the comfort of your own home. And especially in these times of social distancing, webinars offer a way to connect with others who are grieving. Our webinars Conversations On Grief and Healing Grief Holistically may be the support solution you're looking for.
Our webinars offer monthly online access to grief support and education through your phone, computer or mobile device. From the comfort of your home, you're welcome to participate without having to deal with traffic, long distances or childcare. Grief is a journey. It is our sincere hope that during each webinar you'll find comfort, compassion, understanding, and encouragement as you heal.
Conversations On Grief webinars are facilitated by Bereavement Supervisor Maggie Cochran and Director of Volunteer and Bereavement Services Nancy McCranie. Conversations On Grief webinars are offered the 2nd Tuesday of the month from 7 pm to 8 pm. You're welcome to attend one, several or all webinars.
Maggie Cochran, LCSW– As the Bereavement Supervisor at Hospice Austin since 2013, Maggie oversees the grief support offered to families of patients that Hospice Austin has served as well as anybody in our community who is grieving. A Licensed Clinical Social Worker, Maggie came to bereavement work through her combined experience in pediatric oncology as well as having loved ones receive hospice care at the end of their lives. Maggie is grateful to work for Hospice Austin and enjoys volleyball, running and animals of the feline persuasion.
Nancy McCranie, M.Div – Nancy began working for Hospice Austin as a chaplain in 1996. Since 2009 she has served as the Director of Volunteer and Bereavement Services and is a frequent speaker for area groups, leading discussions about end-of-life issues and the process of grieving a loss. Nancy is an ordained minister with the Presbyterian Church (USA) and holds a M.Div. degree from Austin Presbyterian Theological Seminary. Nancy is married to Bill, an organic/bio-dynamic farmer and rancher who raises blueberries and beef. They have two sons, four dogs, and two cats.
Upcoming Conversations on Grief Webinars
Finding Movement Within the Paralysis of Grief
Tuesday, April 11th
7:00 – 8:00 pm
The experience of grief can leave you with little energy or motivation to draw upon as you face tremendous loss and the multitude of emotions and logistical tasks that go with it. You are grieving yet you still must pay the bills. You feel deep emotions, yet you also feel numb.
During this webinar you will learn how to make space for both stillness and movement as you navigate your unique grief experience. The feelings of heartache, overwhelm and apathy are real, and yet many people before us have emerged from their grief to find direction, meaning and fulfillment in life. What do they have to teach us?
Register Now
Help! I'm Starting to Feel Better
Tuesday, May 9th
7:00 – 8:00 pm
In the early part of our grief journey, we don't see how it's possible to ever feel happy again. And when we do feel a moment of joy or happiness, feelings of guilt, remorse and shame often follow close behind. Over time however we can learn to invite joy back into our life. We begin to truly feel that our loved one wants us to be happy and that our happiness is an important expression of the love we shared.
During this webinar you'll learn that feeling better is not a betrayal of your loved one nor does it minimize the importance of your relationship. We will share tips on how to engage in your life without feeling as if you are forgetting them or moving away from them.
Register Now
How to Recover from Loss
Tuesday, June 13th
7:00 – 8:00 pm
Recognizing and fortifying our inherent ability as humans to find resilience in the face of tremendous grief is key to recovering from loss. The death of a loved one most certainly breaks you open but it doesn't have to break you apart. This experience of breaking open leaves us forever changed. However if we allow ourselves to feel the breadth and depth of our grief, we will also have a chance to know ourselves and others on a deeper and more compassionate level.
In this webinar you will learn to trust in and use your capacity to survive the loss of a loved one. We will offer tools and exercises to explore this topic both during the webinar and on your own going forward.
Register Now
Please call the Bereavement Department at 512-342-4700 if you have any questions or would like more information.
"It was good to be in the company of others, yet comfortable at home. I wouldn't attend a meeting at night and if I had to battle with Austin traffic."