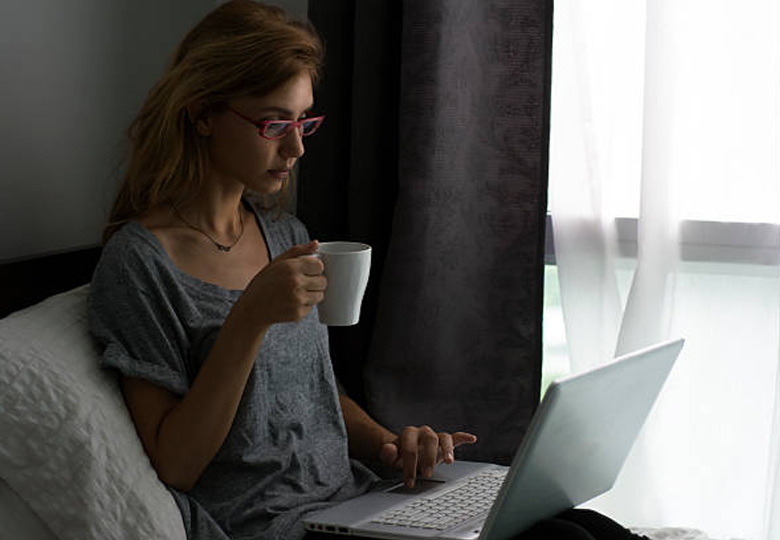 Online Bereavement Support
Someone you love has died and you're looking for support but can't find a grief support group that fits into your busy schedule. Or perhaps you don't feel comfortable grieving in fronts of others; you'd prefer the comfort of your own home. And especially in these times of social distancing, webinars offer a way to connect with others who are grieving. Our webinars Conversations On Grief and Healing Grief Holistically may be the support solution you're looking for.
Our webinars offer monthly online access to grief support and education through your phone, computer or mobile device. From the comfort of your home, you're welcome to participate without having to deal with traffic, long distances or childcare. Grief is a journey. It is our sincere hope that during each webinar you'll find comfort, compassion, understanding, and encouragement as you heal.
Conversations On Grief webinars are facilitated by Bereavement Supervisor Maggie Cochran and Director of Volunteer and Bereavement Services Nancy McCranie. Conversations On Grief webinars are offered the 2nd Wednesday of each month from 7:30 pm to 8:30 pm. You're welcome to attend one, several or all webinars.
Maggie Cochran, LCSW– As the Bereavement Supervisor at Hospice Austin since 2013, Maggie oversees the grief support offered to families of patients that Hospice Austin has served as well as anybody in our community who is grieving. A Licensed Clinical Social Worker, Maggie came to bereavement work through her combined experience in pediatric oncology as well as having loved ones receive hospice care at the end of their lives. Maggie is grateful to work for Hospice Austin and enjoys volleyball, running and animals of the feline persuasion.
Nancy McCranie, M.Div – Nancy began working for Hospice Austin as a chaplain in 1996. Since 2009 she has served as the Director of Volunteer and Bereavement Services and is a frequent speaker for area groups, leading discussions about end-of-life issues and the process of grieving a loss. Nancy is an ordained minister with the Presbyterian Church (USA) and holds a M.Div. degree from Austin Presbyterian Theological Seminary. Nancy is married to Bill, an organic/bio-dynamic farmer and rancher who raises blueberries and beef. They have two sons, four dogs, and two cats.
Healing Grief Holistically webinars are facilitated by Eileen Priya. Healing Grief Holistically webinars are held the 3rd Monday of each month from 6:30 pm to 8:00 pm. You're welcome to attend one, several or all webinars. This webinar series includes gentle movement that is suitable for all fitness levels. Loose, comfortable clothing is recommended. Please also have a pen and paper when you attend.
Eileen Priya– Eileen began working with Hospice Austin in 2013 as a bereavement counselor intern. She is an energy healer who is certified as a yoga teacher, chi gong movement instructor, advanced medical chi gong practitioner and Clear Light Healing Practitioner. She has master's degrees in education and counseling and has been studying holistic practices since 1988. Her healing grief holistically offerings at Hospice Austin always receive rave reviews from participants.
Upcoming Conversations on Grief Webinars
Grief and Healing: Setting Your Intentions for the New Year
Wednesday, January 13th, 2021
7:30 pm to 8:30 pm
There are times in our grief journey when we are ready for a change in how we grieve. Healing comes through a willingness to allow a full and honest grief experience and through the courage to act. During this webinar, you'll learn the difference between intentions and resolutions, how to identify your intentions, how to incorporate them in your life, and how to check in with yourself along the way.
Register Now
The Power of Gratitude in Grief
Wednesday, February 10th, 2021
7:30 pm to 8:30 pm
Gratitude and grief are not two words you normally use when talking about loss. After all, how is it possible to be grateful when you're grieving the loss of a loved one? During this webinar you'll learn how to become emotionally agile and experience what happens when you choose to embrace your grief with gratitude.
Register Now
Grief: The Demanding and Uninvited Guest
Wednesday, March 10th, 2021
7:30 pm to 8:30 pm
Grief is a demanding houseguest. It makes a mess, leaving dirty dishes in the sink, clothes on the floor and your refrigerator without food. It keeps long and strange hours, causing you to have disrupted or inadequate sleep. It lacks social skills, interrupting you when you are on the phone or trying to have a friend over for lunch. In this webinar you'll discover how embracing your grief can lead to a deeper spiritual connection, greater compassion for yourself and other, and experience a new wholeness as you learn how to integrate your loss into daily living.
Register Now
Upcoming Healing Grief Holistically Webinars
Holistic Healing for Sleep Difficulties During Grief
Monday, January 18th, 2021
6:30 pm to 8:00 pm
Sleep can be elusive during grief, and we are also seeing an epidemic of "pandsomnia". After a loss, we are adjusting to a new reality and have new worries, and this can keep us awake when we need our rest. We will learn about science behind grief and sleep difficulties, as well as holistic ways to address sleep challenges.
Register Now
Holistic Healing for Grief Related Fatigue
***Rescheduled from February 15th to Monday, February 22nd, 2021 due to winter storm causing power and internet outages in Austin/ surrounding area 
6:30 pm to 8:00 pm
Fatigue can be overwhelming while we grieve, especially during early grief.  This webinar will focus on acupressure, aromatherapy and movement for fatigue we experience during grief.
Register Now
Grief and the 5 Elements of Chinese Medicine: The Wood Element
Monday, March 15th, 2021
6:30 pm to 8:00 pm
Chinese medicine offers useful ways to look at grief and effective ways to heal.  This webinar will look at the wood element and how it applies to grief. This element is associated with the season of spring, adapting to the winds of change, depression and anger.  We will learn about the element and do some movement, meditation and acupressure self-massage to help ourselves heal.
Register Now
Please call the Bereavement Department at 512-342-4700 if you have any questions or would like more information.
"It was good to be in the company of others, yet comfortable at home. I wouldn't attend a meeting at night and if I had to battle with Austin traffic."