Healthcare Partners
Hospice Austin works closely with many hospitals, physician offices, assisted living, skilled, and long-term care facilities. We value these partnerships and the compassionate care our partners provide to our patients. To show our appreciation, we are highlighting a different healthcare partner each month.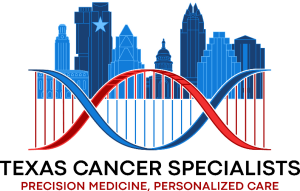 At Texas Cancer Specialists, the focus is on personalized care. This type of care is exemplified by Dr. Kassandra Grzankowski, a gynecological oncologist with more than seven years of experience in gynecological surgery.  Dr. Grzankowski studied with SUNY at Buffalo School of Medicine, completed her residency at University of Hawaii School of Medicine and her fellowship at Roswell Park Cancer Institute. She and her husband moved to Austin from Arizona where she was an oncologist at the Arizona Center for Cancer Care. Hospice Austin is proud to work with Dr. Grzankowski; the level of care and support she provides for her patients and their families is impressive.
Texas Cancer Specialists is composed of caring physicians serving Austin, Round Rock, Kyle, and Georgetown.  Previously under the umbrella of Austin Cancer Centers, the focus of this newly-formed practice is on listening to the patient and helping them through their unique cancer journey with a multidisciplinary approach.