Healthcare Partners
Hospice Austin works closely with many hospitals, physician offices, assisted living, skilled, and long-term care facilities. We value these partnerships and the compassionate care our partners provide to our patients. To show our appreciation, we are highlighting a different healthcare partner each month.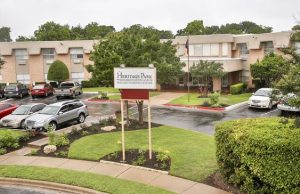 Heritage Park Rehabilitation and Skilled Nursing Center provides comprehensive services for those residents and patients who require specialized treatment focusing on behavioral management, while needing skilled nursing care. Their staff is specially-trained to provide care and services to residents and patients who suffer with behavioral disorders including depression, schizophrenia, psychotic disorders and other various forms of Dementia-related psychosis and behavior problems. 
The quality of care they give our patients is apparent – each staff member knows specific details about our patients. We appreciate their excellent communication with us. As an experienced post-acute company working in a diverse range of healthcare roles, they obviously take pride in their quality of care. We are honored to name Heritage Park Rehabilitation and Skilled Nursing Center as our healthcare partner for May.