COMMUNITY PARTNERS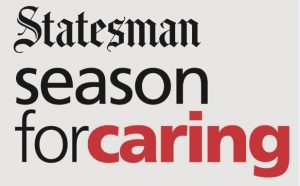 Each year, the Austin American-Statesman's Season for Caring program selects 10 – 12 nonprofits and features one of their families to be the face of the nonprofit; they run articles about the family and their needs during the holiday season. Readers donate money and gently used items. The families' needs are filled first and the rest of the money goes to the nonprofit to help others in need.
Hospice Austin has been fortunate to have a family featured in the Season for Caring campaign for a number of years. One year, we nominated a patient who was homeless and living in his broken-down truck in a Lowe's parking lot. Readers donated a mobile home, truck repairs, airline tickets for his children from California to come visit him, and enough donations from the campaign to pay his rent and bills for a year. This year, Hospice Austin patient Joey Jimenez and his family have been selected to participate in Season for Caring. You can read about their story here.
Money from Season for Caring has enabled us to establish a Special Needs fund for our patients. This fund helps patients like 86-year-old Gloria – who used to choose between feeding her cat or feeding herself – with HEB gift cards. It helps other patients with rent, bills, food and transportation. So many of our families have decimated their savings after years of fighting an illness; Season for Caring funds have made a profound difference in the lives of hundreds of Hospice Austin families.
Thank you, Austin American Statesman and Season for Caring. We are honored to name you as a community partner.