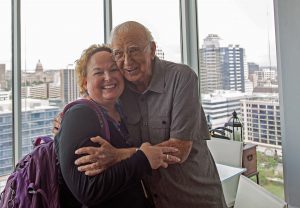 March 1st at 6:00 pm –
March 2nd at 6:00 pm
Amplify Austin, our city's annual online giving campaign to nonprofits, will start March 1st at 6:00 pm and run for 24 hours. This campaign is a particular favorite of ours because it's a unique opportunity to gather with our supporters online and enjoy the camaraderie as we all share our support for Hospice Austin!
Time is precious… Be an early giver during Amplify Austin to help Hospice Austin deliver the right care at the right time.
There are many ways to help:
1. Make your donation now! Click here to access the Amplify Hospice Austin page or click on the donate button below.
2. Help us celebrate! Join us for a pre-party to celebrate Amplify Austin on Thursday, February 23 from 5:30 – 7:30 at Hospice Austin, 4107 Spicewood Springs Road.
3. Help us stay on top of the Amplify Austin leaderboard! Mark your calendar to donate on March 1st.
Thank you for your support!
Thank you to our Presenting Sponsors:

Thank you to our Challenge Sponsors:
BB&H Benefit Design | Gregg & Patti Bourland | Frank Cedeño | Bill Dickson
Marcia & Dave Fox | Robert Freeman | Beth & Tom Granger | Linda Haines
Wesley Henderson | Greg Hooser & Anne Brennan | Claudia & Jim Humphrey
Marsh McLennan | Maxwell Locke & Ritter LLP/ML&R Wealth Management LLC
Gary Nelon | Oscar & Nancy Robinson | Sue and Mike Phillips
Lindsay & Joanie Sharpe | Anonymous Donors